Kubernetes Architectural Components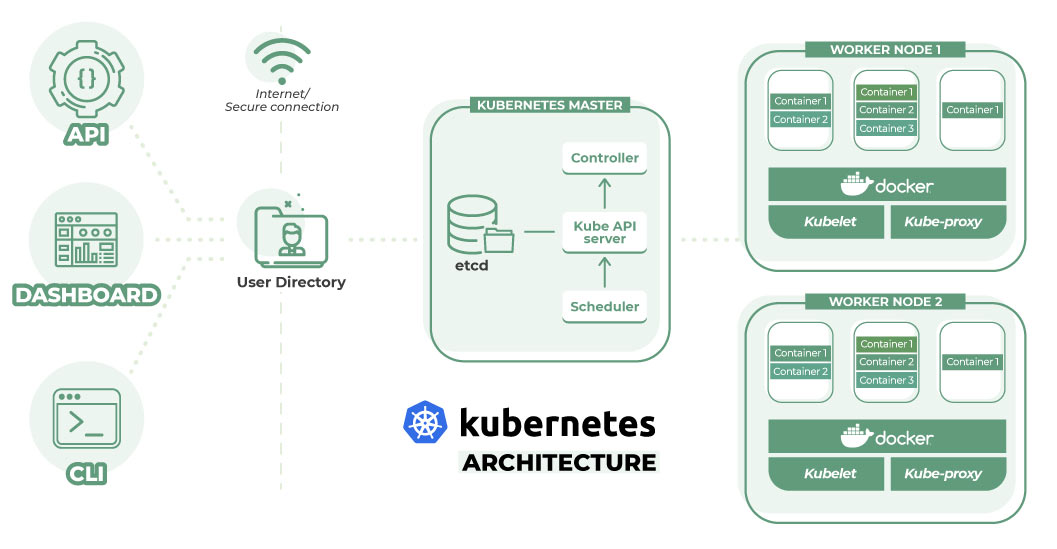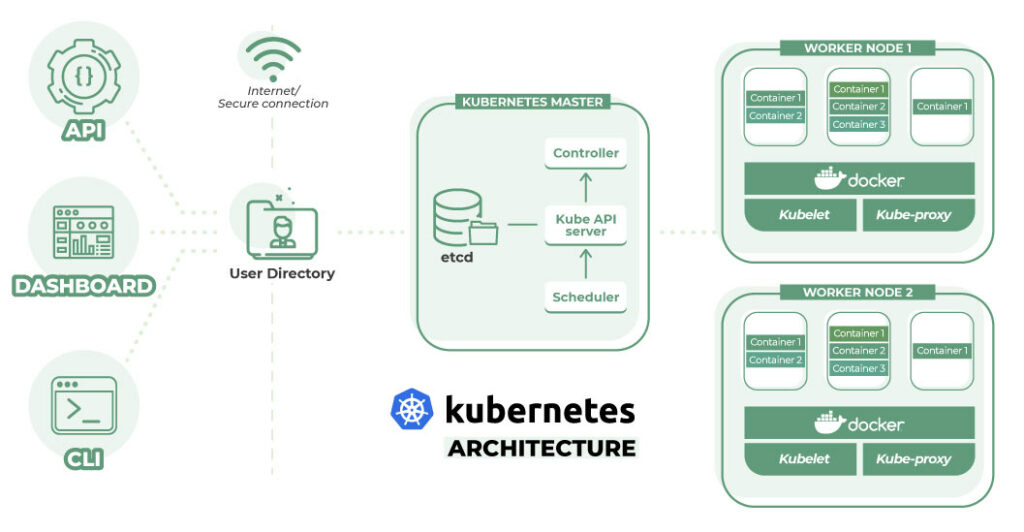 A Kubernetes implementation usually consists of one or several master and non-master nodes. Kubernetes allows you to use existing Docker containers and workloads. While drawing the basic constructs in a diagram is relatively simple, the definition and implementation of the exemplary K8S architecture for your business are quite complex.
A Kubernetes master runs the Control Plane, which is responsible for maintaining the desired state of the cluster we discussed above. In its turn, the Kubernetes Control Plane consists of several components with unique roles:
etcd is a data store for all information about a cluster. It's the glue that holds the integrity of the entire platform together.
kube-apiserver enables users to create API resources, run applications, and configure cluster parameters.
kube-controller-manager manages user-created API objects. It polices the actual cluster state to ensure it always matches the desired state.
kube-scheduler is responsible for user workload scheduling. It considers available node resources, node health, user-defined constraints, and more to determine the right infrastructure to process the work.
cloud-controller-manager interacts with the cloud providers' APIs embedding cloud-specific control logic that lets you link your cluster into your cloud provider.
Applications deployed by users always run on non-master nodes. These nodes communicate with the master via kubelet. This central node component performs many orchestration tasks, such as registering nodes with the API server, starting and killing containers, monitoring containers, executing liveness probes, collecting container and node metrics, among others.
Also, nodes run kube-proxy, a program that reflects Kubernetes networking services on each node.
Kubernetes architecture is quite complex, but the trade-off is a robust set of options to architect the right platform for your application processing and data storage requirements. DinoCloud's certified Kubernetes consultants have the experience to reduce the risks of your Kubernetes cloud design and implementation.