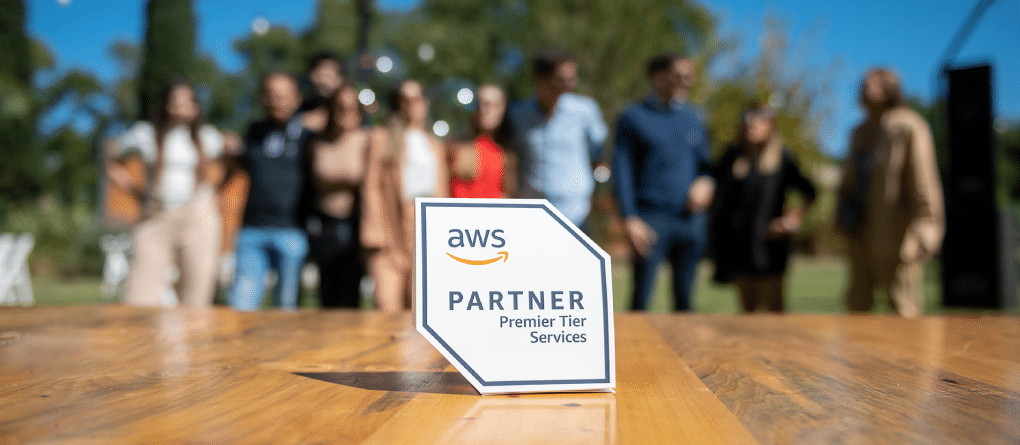 City of Cordoba, 25 April 2022
DinoCloud achieves AWS Premier Consulting Partner status.
DinoCloud, a leading adoption of global innovation and cloud computing technologies company, reinforces again its growth trajectory by becoming the new AWS Premier Partner in the region.
This new milestone, which places the company at the highest level within a select global ecosystem, is part of another achievement in its mission to lead the Latin American region, providing high-quality products and services and operational excellence to its customers along with Amazon Web Services (AWS).
"For DinoCloud, reaching Premier level has two dimensions: a confirmation and a starting point. It is a confirmation of the aligned and focused work that the company has been doing since its launch in 2016: certifications and training of talent, success stories achieved in conjunction with AWS, and a company profile capable of making decisions and customer challenges with the highest quality standards, in different regions of the continent.
Moreover, it is a starting point to reaching the next level. Reaching the Premier level consolidates DinoCloud as a world leader in terms of AWS and allows the company and its large commercial investment to achieve better positioning and, therefore, better results. We really consider Premier Level as the bridge between critical customers facing real needs in terms of digital transformation and a company ready and qualified to work together."
Partnership at its highest level
Globally, only an exclusive group of companies are part of the highest level of partnership operating under this badge. Obtaining it implies not only having a solid track record as a whole but also complying with a series of rigorous procedures and instances of technical evaluation, demonstration of expertise with relevant success stories, obtaining certifications and competencies, as well as contributing to the development of AWS in the region, with increasingly larger businesses from the technological and commercial standpoints.
Being an AWS Premier Partner is an achievement shared by all organization members and represents the reach of DinoCloud to the rest of the world, which will undoubtedly be accompanied by great challenges and opportunities to continue growing even more.
"Undoubtedly this is the most important achievement since we built DinoCloud. The #1 technology company in the world is certifying and validating us as a global company capable of meeting, under professional services of quality and excellence, the demand that the world generates today. To do so, we need to create and strengthen during these years a unique corporate culture, with a sense of belonging, obsession for our customers, constant technical and professional development, capacity for innovation, and, above all, a team of impressive human and professional quality.
From day one, we thought about this in a big way and today we are just in the first steps, but we have the most important element, which is our team. I am convinced that we can achieve every planned milestone and perhaps much more. Today we strengthen our position as a leader in Latin America in the creation, optimization, and evolution of products deployed in the cloud".
A long journey traveled
DinoCloud emerged in 2016 with the innovative idea of becoming a 100% customer-focused cloud consulting company that could offer agile solutions in an immature and underexplored market. Faced with a great opportunity, its three founding partners understood that positioning themselves alongside a world-class leader such as AWS Amazon Web Services would lay the foundation for a business model built on the highest quality standards and open the doors to an ecosystem of unlimited opportunities for constant innovation.
With this decisive vision over the last six years, DinoCloud has focused on professionalizing its operational teams under the premise of quality with a 360° technical approach, and on developing commercial support and human resources areas to respond to the growing demand.
In 2020, under a scenario of global uncertainty, DinoCloud was able to find its place and position itself as a key player in the technology market, accompanying a wide variety of companies and institutions from various industries in their technological transformation process toward the cloud, given the immediate need to face new challenges and the emergence of new business models.
In 2021, with a considerable sum of success stories, excellent quality assessments, the acquisition of new technical skills, and exponential growth, DinoCloud managed to strengthen its expansion into the North American market, while receiving a new growth investment with a view to tripling its projections for the coming years. Also, focused on investing in the professional team, the company tripled the number of employees in all areas of the company.
In 2022, DinoCloud is recognized by Great Place To Work as the best company to work for in Argentina, in the category of companies with up to 250 employees, and in turn, achieve the same position in the category Best Places to Work in Technology 2022.
However, the biggest milestone was announced in April, when it was recognized as an AWS Premier Consulting Partner, achieving one of the company's biggest corporate goals.
"It's a new achievement, but one of the most important in Dino's history. For some time now, we have been guiding the team and the brand towards excellence, achieving certifications that endorse the quality of our services and our culture in the highest categories. AWS has inspired our course from the very beginning, and deciding to become a benchmark company not only comes from the fact that we are constantly improving, but also that this great partner gives us the privilege of being part of this elite group of companies that represent the values and quality that make it one of the leading companies in the world.
From the operations perspective, the challenges are ongoing, but we have managed to generate a culture of partnership and joint growth, supported by people who contribute invaluable human qualities in a company that provides professional services. We do not cease to have references, but we are encouraged to invent and implement, often kicking the board and finding maximum efficiency from the very bowels of the organization.
Reaching this point is a consequence of always thinking big, aiming higher, being encouraged, and understanding that mistakes are a sign that we are still trying. In that regard, being Premier is just the beginning of starting to measure ourselves against a new yardstick, and that's what drives the whole team."
About DinoCloud
DinoCloud is a leading AWS Premier Partner company in Latin America, formed by teams of professionals with the main objective of accompanying each of its customers to walk the path of learning and implementation of technology trends worldwide. It has success stories in different industries including: healthcare, financial services, transportation and logistics, e-commerce, software as a service and telecommunications, being official partners of the main cloud providers, and one of the most important AWS consulting partners in Latin America.